Free Admission (suggested donation: $20 | $10 students & seniors)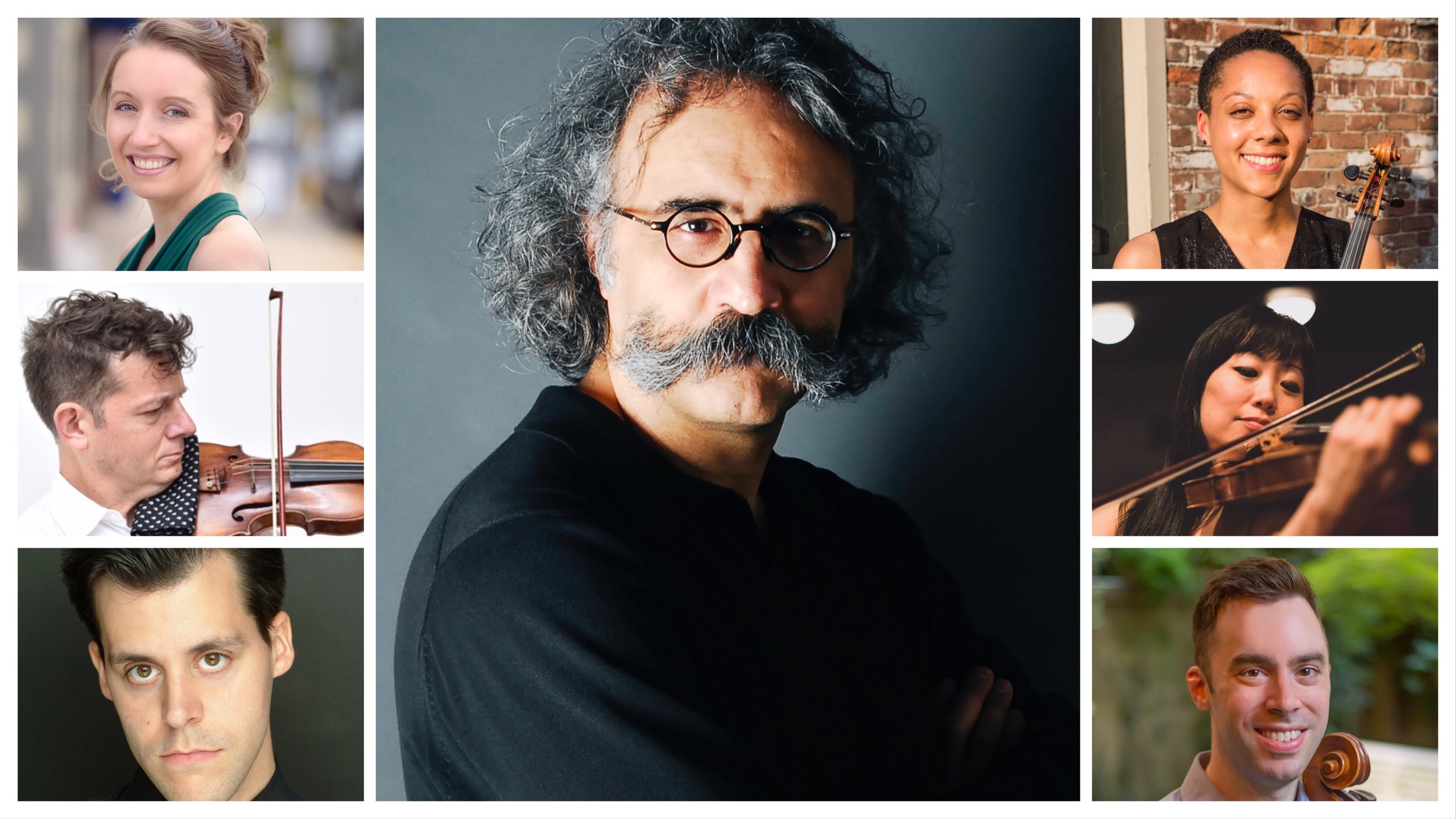 Carnegie Hill Concerts presents Chamber Music by Ramin Heydarbeygi performed by the Carnegie Hill Concerts Chamber Players at Church of the Advent Hope.
Carnegie Hill Concerts Chamber Players:
Christina Kay, Soprano
Conrad Harris, Violin
Pauline Kim Harris, Violin
Dana Kelley, Viola
Michael Haas, Cello
Stephen Gosling, Piano
Program:
String Quartet No. 2
WP 2017
Gefangene, Musik hörend
(after Käthe Kollwitz)
for two violins
WP 2019
Setayesh az Anahid
for string trio
2008
(revised version)
Avaz hay Nima
for voice and viola
2011/2019
Astvihad
for soprano and piano
2012
Rok-ku no haiku
2004/2019
for violin and piano
Program Notes:
The title of my song cycle, Astvihad (2012), in Old Persian, refers to the demon of death. I have used a number of poems that relate directly or indirectly to this subject. The collection of poems used for this song cycle are from the 9th century to present by Hafez, Sanai, Rudaki, Khoi, and Khaiyam. Astvihad was commissioned by Dr. Faustus for the "New Art Songs Project 2012," and premiered on 8 May 2012 at WMP Concert Hall, New York, by Mary Hubbell, soprano, and Mirna Lekic, piano.
For many years I have been fascinated by the poetry of Nima, the father of modern Persian poetry. For me, his poems are musical, with distinct characters; however, once translated to other languages, these distinctions are lost. In many of his poems, including the three I have chosen for this cycle, there is an underlying dark, melancholic tone, which, in this case, unifies the selected poems. Avaz hay Nima (2009, rev 2019) was premiered by H. Roz Woll, voice, and William Hakim, viola, on 20 May 2009 at Elebash Concert Hall, New York. This performance marks the premiere of the revised version.
Gefangene, Musik hörend (after Käthe Kollwitz) (2019) centers on the notions of loss and memory. The title is based a work by German expressionist artist Käthe Kollwitz. Remembering what is lost when only its illusion exists in our memory or dreams is the central idea of this work. The musical element that represents the past is quotations and references made to JS Bach's Sonata No. 3 for Solo Violin, at times latently. For this piece, I have suggested two performance versions, one is with inclusion of the first movement of Bach's Sonata. This marks the first performance of this work.
Rok-ku no Haiku (2004-05, rev 2019) is in six movements, each movements expresses a different emotion. Despite the fact that there is a reference to Haiku in the title, this work, similar to my other works, should be viewed as Persian miniatures, an artistic expression found in classical poetry book illustration, as well as in poetic structures found rubai (or rubaiyat). Rok-ku no Haiku was first performed by Pauline Kim-Harris, violin, and Eric Huebner, piano, on 2 June 2005 at CAMI Hall, New York. This performance marks the premiere of the revised version.
Anahid, Anahita, Ab-Nahid, or Nahid, a Zoroastrian yazata, is an Iranian divinity, the one who "possesses waters," and is the "mother of all knowledge," and is celebrated in Aban Yasht, the longest of the Avestan hymns, verses from her hymn form the greater part of the Āban Niyayesh. Anahid was worshipped at many natural sanctuaries throughout Iranian territory. An Anahid temple, next to Shapur I's palace at Bishapur, could be flooded with water, where Anahid was worshiped. This water-goddess and mother-goddess, responsible for life, was royally promoted and became widely popular. Artaxerxes II (404-359 B.C.) invoked Anahita, after Ahura Mazda and Mithra, and he encouraged her worship. Anahita has been a prominent figure in artistic representation and figures mainly in Zoroastrian literature. Setayesh az Anahid is a tribute to Nahid Jenabzadeh. The original version of this work was premiered by members of the Barbad Chamber Orchestra, Cyrus Beroukhim, violin, Miranda Sielaff, viola, and Arash Amini, violoncello, on 28 April 2010 at Steinway Reformed Church in Astoria, New York. This performance marks the premiere of the revised version.
String Quartet No. 2 (2017) consists of seven movements. In this work, a series of gestures in each movement leads to final movement, which is built as a strong closing gesture. This gesture brings the piece to a close in unison on a single note.
Ramin Heydarbeygi, Composer
Critics have described Ramin Heydarbeygi's music as "rich and expressive" and "honest, direct and uncompromising", and with "unique artistic voice . . . well crafted, probing, and rich in content." His music has been performed in Iran and throughout the US, and featured at international music festivals, including the Silk Road Modern, Icebreaker III Festival, Festival of Modern Music, and Composers Now Festival; and by Ensemble 365, the Cygnus Ensemble, the Seattle Chamber Players, Dr. Faustus Project, Anti-Depressant, the Bronx Arts Ensemble, the Transit, among others, and in such venues as Carnegie Hall, Le Poisson Rouge, Benaroya Hall in Seattle, and the New York Botanical Garden.
Recent commissions have included from the Dr. Faustus Project, the Next Stage, New York State Council on the Arts, and the Seattle Chamber Players. He studied composition with Bruce Saylor, Leo Kraft, Thea Musgrave, and Paul Cooper, was previously a resident composer with the Next Stage Ensemble in New York, and the founding music director and conductor of the Barbad Chamber Orchestra. With the Barbad Chamber Orchestra he has conducted a wide range of music from historically informed performances of the baroque to numerous world, US, and New York premieres by contemporary composers from around world.
Stephen Gosling, Piano
Stephen Gosling earned his Bachelor's, Master's and Doctoral degrees at Juilliard, where he was awarded the Mennin Prize and Sony Elevated Standards Fellowship. He is a member of New York New Music Ensemble and Talea Ensemble, as well as a pianist at New York City Ballet. He has also performed with the New York Philharmonic (most notably as soloist in Messiaen's Sept Haikaï), Chamber Music Society of Lincoln Center, Orpheus, Orchestra of St. Luke's, St. Paul Chamber Orchestra, Eighth Blackbird, American Composers Orchestra and Chamber Orchestra of Europe, among many others.
Christina Kay, Soprano
Soprano Christina Kay is a versatile singer with a particular enthusiasm for early and contemporary music. She was recently seen as Daphne in David Chesky's new satirical opera, La Farranucci, and as Lead Singer in Petr Kotik's chamber opera, Master-Pieces, for which she was praised for portraying a "vital, intelligent, generous and deeply rewarding" Gertrude Stein. In May 2019, Christina sang the premiere of Hannah Selin's Six Narratives with the Brooklyn Metro Chamber Orchestra, a piece written for six female soloists with text by Adrienne Rich. An active soloist and chorister, she has sung with many professional groups, including ARTEK, The American Classical Orchestra, and True Concord Voices and Orchestra. She enjoys her weekly position at Fifth Avenue Presbyterian Church and is active as a voice teacher and arts administrator in the NYC-area.
Conrad Harris, Violin
Violinist Conrad Harris has performed at Ostrava Days, Darmstadt Ferrienkürse für Neue Musik, Gulbenkian Encounters of New Music, Radio France, Warsaw Autumn, and NY Sonic Boom Festival. He is member of the FLUX Quartet and violin duo String Noise, concertmaster/soloist with the S.E.M. Orchestra, Ostravská Banda, STX Ensemble, Wordless Music Orchestra and Ensemble LPR. He has performed and recorded with Elliott Sharp, Robert Ashley, Alvin Lucier, David Behrman, "Blue" Gene Tyranny, Jean-Claude Risset, Rohan de Saram and Tiny Tim. A recording of the sonatas of Lejaren Hiller was released in 2018 with pianist Joe Kubera on New World Records. Harris has also recorded for Lovely, Mode, Asphodel, Vandenburg, CRI, Northern Spy, and Vinyl Retentive Records.
Pauline Kim Harris, Violin
Pauline Kim Harris is a violinist and composer, prolific in the classical to the experimental/avant-garde. A frequent guest with New York City's leading new music ensembles, she has also toured internationally with the Orpheus Chamber Orchestra. Pauline serves as Music Director of the Bill T. Jones/Arnie Zane Dance Company and has performed as violin soloist for choreographer Pam Tanowitz and David Parker of The Bang Group. As a curator, she co-produced Drawing Sounds II, with husband, Conrad Harris at the Drawing Center, Petr Kotik @75 at (le) poisson rouge and continues as co-curator of Carnegie Hill Concerts, a chamber music series committed to new music. Her violin duo, String Noise released their freshman album "The Book of Strange Positions" on Northern Spy Records in 2015 and can also be heard on Dymaxion Groove Records, Cold Blue Music and more. Pauline has discovered an equal passion for composing as performing and is thrilled to be a resident fellow this spring at the Atlantic Center for the Arts. Commissioned by the St. George's Choral Society her piece for organ, choir, cello and soprano, "When We Were" was premiered in 2016. She is currently making a new work for String Noise and Syrinx (acoustic synthesizer) "100 Thimbles in a Box" to be premiered on the Interpretations Series at Roulette on June 6, which will also include new works for String Noise by Sam Yulsman, Jessie Cox and George Lewis. A collection of even more new works will be presented July 9-13 on her first residency at The Stone and look out for her debut solo album on Sono Luminus Label later this summer. Fun fact: Pauline was in the final masterclass of Jascha Heifetz.
Dana Kelley, Viola
Violist Dana Kelley has been a top prizewinner in the Sphinx Music Competition and the Irving M. Klein International String Competition. She is a member of the Orpheus Chamber Orchestra, and recently completed an Artist Diploma in String Quartet Studies from the Juilliard School as a member of the Argus Quartet. The Argus Quartet was named the First Prize Winners of both of the 2017 M-Prize Chamber Arts Competition, the 2017 Concert Artists Guild Victor Elmaleh Competition and were recipients of the 2018 Classical Recording Foundation Award and the 2018 Salon de Virtuosi Award. Dana was a 2014-2016 Fellow in Ensemble Connect - a performance and teaching program of Carnegie Hall, The Juilliard School, and The Weill Music Institute. She received her Bachelor's of Music from the Blair School of Music at Vanderbilt University, studying violin with Cornelia Heard and viola with Kathryn Plummer, and completed her Master's of Music degree at the New England Conservatory as a student of Kim Kashkashian. Dana has collaborated with artists such as Ralph Kirshbaum, Nobuko Imai, and Miriam Fried, and participated in Ravinia's Steans Musicians on Tour. She frequently performs with The Metropolitan Opera Orchestra, A Far Cry, and The Knights chamber orchestras. She has attended festivals such as Ravinia's Steans Music Institute, the Lucerne Academy, the International Summer Academy of the mdw – University of Music and Performing Arts Vienna, the Schiermonnikoog International Chamber Music Festival, Kneisel Hall, and the Aspen Music Festival and School.
Michael Haas, Cello
Hailed as a "sterling musician" by the Washington Post, cellist Michael Haas has performed for audiences in New York and around the world. As a member of the acclaimed Momenta Quartet he has premiered works by over 100 living composers and performed internationally at the Cervantino Festival, Ostrava Days Festival, Bolivia's Instituto Laredo, and at Salihara in Jakarta. He can be seen in New York with a wide range of ensembles, including the American Symphony, Ensemble Échappé, Mark Morris Dance Group, Argento Chamber Ensemble, and Trinity Wall Street's NOVUS NY. Mr. Haas holds degrees from the Curtis Institute of Music and Juilliard School.