Free Admission (suggested donation: $20 | $10 students & seniors)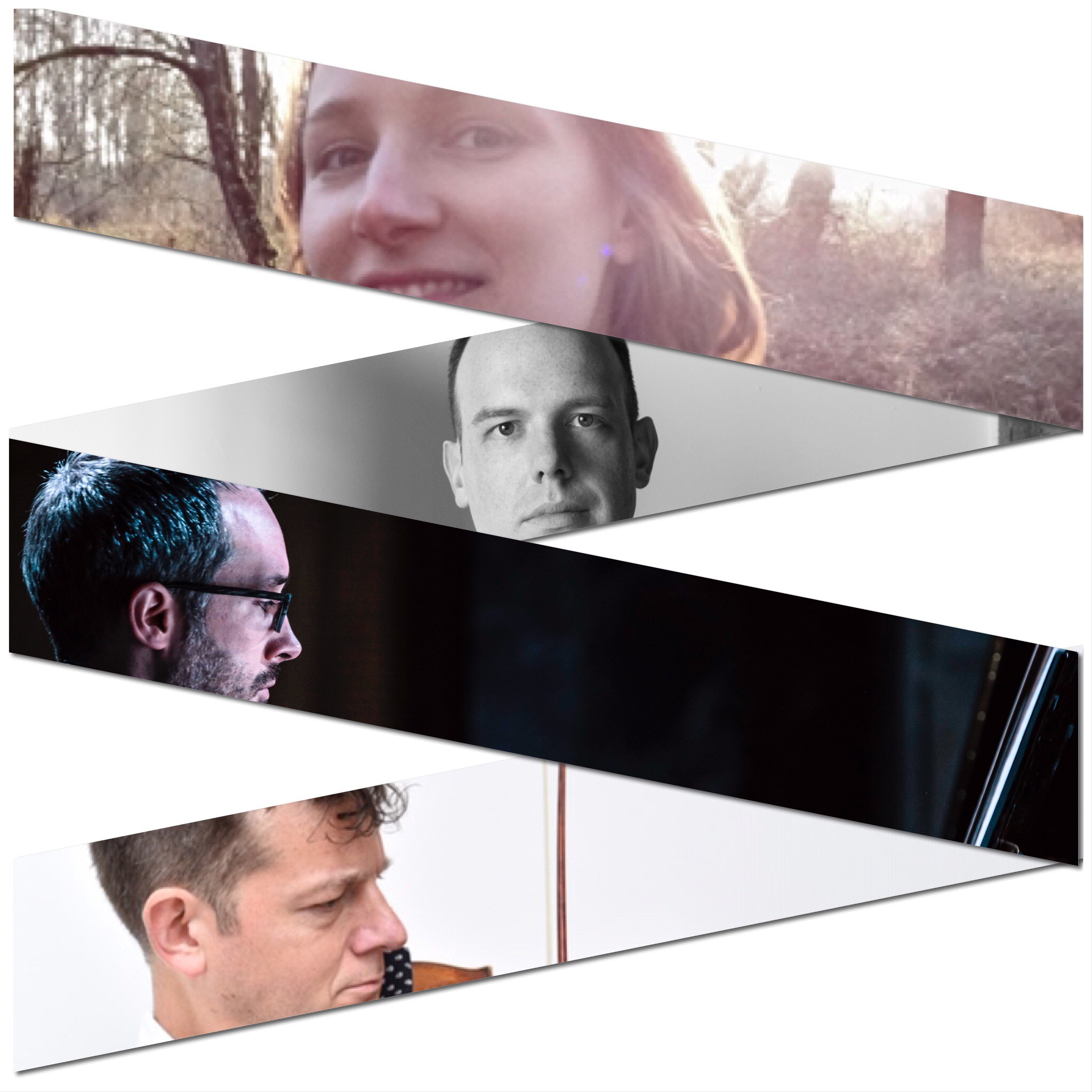 Carnegie Hill Concerts presents music by Catherine Lamb feat. Carnegie Hill Concerts Chamber Players:
Conrad Harris, Violin
Joshua Modney, Violin
Eric Wubbels, Piano
PROGRAM:
in (tone) for Two Violins (2012)
Prisma Interius VII for Violin and Synthesizer (NY Premiere) (2018)
in (tone) (2012) was written during a phase of trying to comprehend, or discover, overlays or saturations of similar qualities in harmonic colorations. Searching for the moments where monochromatic points of brilliant intensities drift into after-images and resultant vibrations of the other by taking simplified and otherwise very activated and sympathetic resonances around multiples of 3 and unisons, displacing them towards their extremes by their close proximities sounding together, compressed. All the possible saturations of yellow and white together in one space, perhaps, with a slight shift into orange.
Prisma Interius VII (2018), commissioned by Hellqvist/Amaral duo, comes from a series of nine pieces exploring the role of the secondary rainbow synthesizer, a keyboard instrument that is placing resonant band pass filters with high Qs on whatever the microphones just outside of the listening space are capturing. In each piece the role changes slightly. While mostly the pieces are exploring its bridging potential between the harmonic space made clear by the main voices and the surrounding environment (highlighting or basso continuo instrument), in VII it becomes an actual duo between violin and synthesizer, each phrase an unfurling form as one color shifting into another, and its smeared residue.
The intention is to narrow the (our own) filters and to approach a kind of thread that could have a feeling of an infinite space. from one inner point of listening, being very individual and personal—from that point one could listen with the others into the outer atmosphere and see the connectivity of everything. that's ideal. that's what i am trying to find, that space. what is the limit of connectivity from one point to the absolute, outside…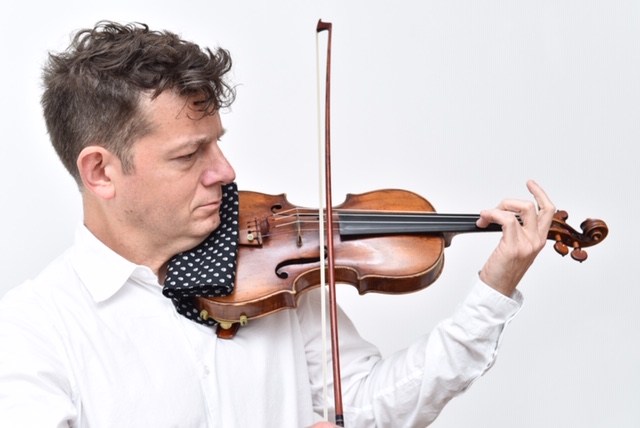 Violinist Conrad Harris has performed new works for violin at Ostrava Days, Darmstadt Ferrienkürse für Neue Musik, Gulbenkian Encounters of New Muisic, Radio France, Warsaw Autumn, and New York's Sonic Boom Festival. In addition to being a member of the FLUX Quartet, he is concertmaster/soloist with the S.E.M Ensemble, Ostravská Banda, and STX Ensemble. He has performed and recorded with such artists as Elliott Sharp, "Blue" Gene Tyranny, Jean-Clause Risset, Rohan de Saram, and Tiny Tim. A solo CD featuring premiers by Alvin Lucier, David Behrman, Robert Ashley and Gordon Mumma will soon be released on Mode Records. He has also recorded for Asphodel, Vandenburg, CRI, and Vinyl Retentive Records.
Eric Wubbels is a composer and pianist, and a Co-Director of the Wet Ink Ensemble. His music has been performed throughout Europe, Asia, Australia, and the U.S., by groups such as Wet Ink Ensemble, Mivos Quartet, yarn|wire, Splinter Reeds, Kupka's Piano (AUS), SCENATET (DK), Hong Kong New Music Ensemble, and featured on festivals including Huddersfield Festival, Chicago Symphony MusicNOW, New York Philharmonic CONTACT, MATA Festival, and Zurich Tage für Neue Musik.
As a performer, he has given U.S. and world premieres of works by major figures such as Peter Ablinger, Richard Barrett, Beat Furrer, George Lewis, and Mathias Spahlinger, as well as vital young artists such as Rick Burkhardt, Francesco Filidei, Erin Gee, Bryn Harrison, Clara Iannotta, Darius Jones, Cat Lamb, Ingrid Laubrock, Charmaine Lee, Alex Mincek, Sam Pluta, Katharina Rosenberger, and Kate Soper.
He has recorded for Carrier Records, hatART, Intakt, New Focus, Spektral (Vienna), quiet design, and Albany Records, among others, and has held teaching positions at Amherst College and Oberlin Conservatory.
Josh Modney is a violinist devoted to creative musicmaking. A "new-music luminary," "superb violinist" (The New York Times), and "multitasking virtuoso" (The New Yorker) hailed for "jaw-dropping technical skill…" and as "one of today's most intrepid experimentalists" (Bandcamp Daily), Modney collaborates with a wide array of renowned ensembles and artists as part of a broad scene of adventurous music that thrives at the nexus of composition, improvisation, and interpretation.
Modney is violinist and Executive Director of the Wet Ink Ensemble and a member of the International Contemporary Ensemble (ICE), and performed with the Mivos Quartet for eight years, a vital new-music string quartet he co-founded in 2008.
Modney's playing has been featured on a wide variety of outstanding recordings, including titles on Carrier Records, Deutsche Grammophon, Sound American, hat[now]ART, Nonesuch, and Tzadik Records. Modney's 2017 release of improvised chamber music with guitarist Patrick Higgins (ZS), EVRLY MVSIC (NNA Tapes), earned praise for its "clairvoyant connection and sheer instrumental prowess" (The Quietus), and his 2018 triple-CD debut solo release, Engage (New Focus Recordings) was lauded by The New York Times as "one of the most intriguing programs of the year".
Catherine Lamb (b. 1982, Olympia, Wa, U.S.), is a composer exploring the interaction of elemental tonal material and the variations in presence between shades and beings in a room. She has been studying and composing music since a young age. In 2003 she turned away from the conservatory in an attempt to understand the structures and intonations within Hindustani Classical Music, later finding Mani Kaul in 2006 who was directly connected to Zia Mohiuddin Dagar and whose philosophical approach to sound became important to her. She studied (experimental) composition at the California Institute of the Arts (2004-2006) under James Tenney and Michael Pisaro, who were both integral influences. It was there also that she began her work into rational Harmonic Space, which became a clear way to investigate the interaction of tones and ever-fluctuating shapes, where these interactions in and of them-selves became structural elements in her work. Since then she has written various ensemble pieces (at times with liminal electronic portions) and continues to go further into elemental territories, through various kinds of research, collaboration, and practice (herself as a violist). She received her MFA from the Milton Avery School of Fine Arts at Bard College in 2012 and is currently residing in Berlin, Germany.